Company Profile
Sun Mines Electrics Co., Ltd.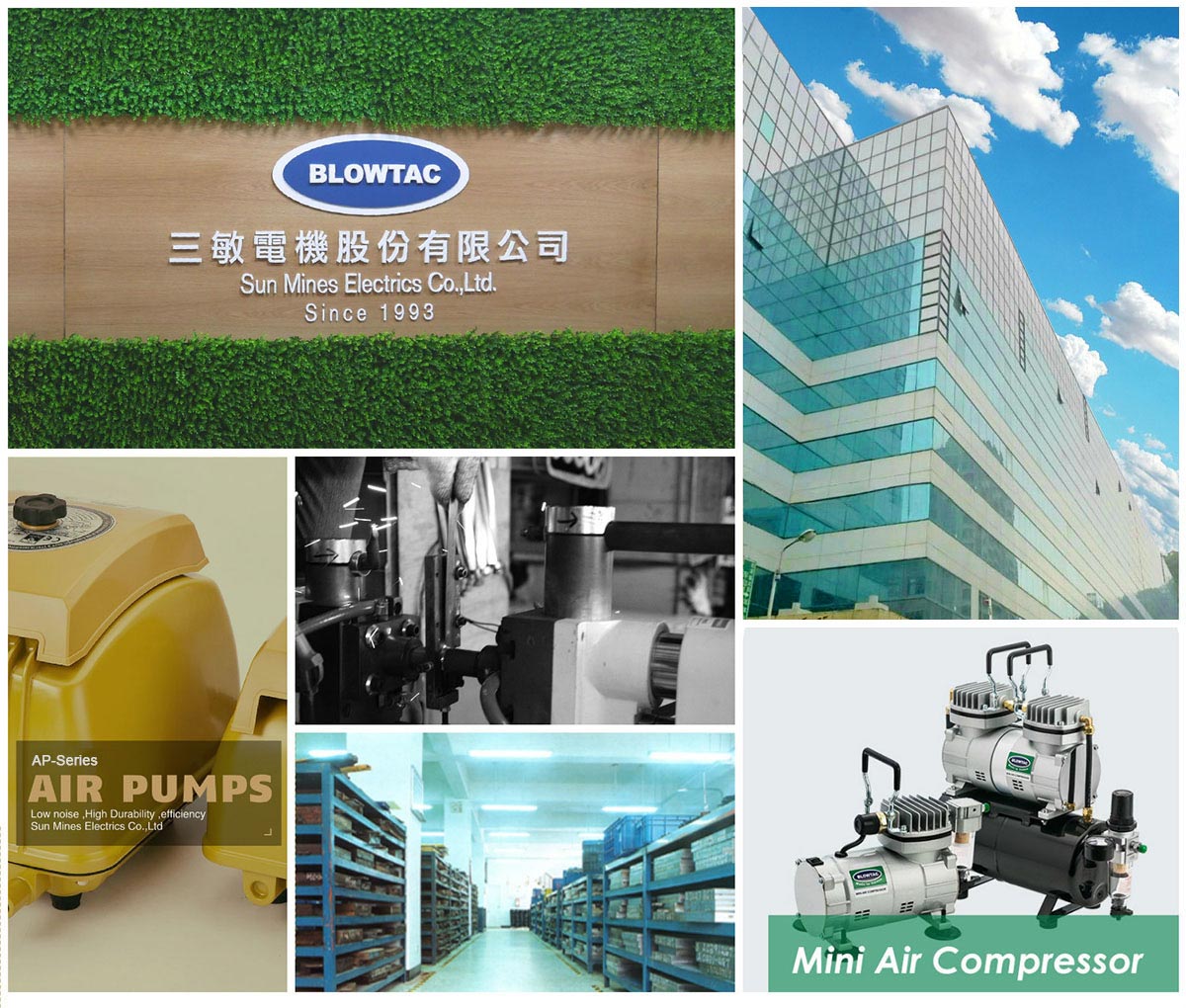 Sun Mines Electrics Co., Ltd. has been established for more than 25 years since 1993. All the products are mainly for environment protection. Green is our main identification color and BLOWTAC and PUMPTAC are brands of the company.
1993, we start business by distributing air pump and sewage pump of Japan in the fields of fish farm and septic tank aeration in Taiwan local market. With the good reputation of reliable quality, fast delivery, and very good after-sales service, we've accumulated a big enough customer base.
1995, we began to expand foreign market and started to build products assembly line for market all over the world. At the time, we developed one by one and start to assemble the products as linear air pumps, rotary vane blowers, natural gas booster pump, roots blowers, side-channel blowers and surface & submersible aerators, and submersible mixers, sewage pumps as well, focusing the two fields of wastewater treatment and aquaculture. Now we've also established very big overseas market, by keeping on participating international exhibitions.
2000, We expand the the production line of mini air compressor and silent HVLP spray system for medical and beauty fields and provide ODM and OEM producing service for client requirement.
2017 for the the trend demand of green energy, energy saving and carbon reduction we added CIGS thin-film solar panels and solar inverters in our product line supplying green power to drive all our air and water pump, blowers and aerator as well, We provide professional and customized services for full range of green energy solutions to be a good citizen of Earth.
For more than 25 years, Sun Mines company has persisted in the business philosophy of "Quality, "Service"" and Innovation". We always improve our product technology and process to reduce costs, accelerate delivery, minimize customer's inventory, and help to increase profit of clients. In addition to aerators and blower application of water supply, wastewater treatment and aquaculture application by green energy, we have also help customers in the medical and beauty equipments and are very happy to offer develop service of water and air application.
We have wide range products line such as breeding and aeration equipments. In recent years, our company has developed like medical and cosmetic products, HVLP spraying systems and CIGS thin-film solar panels and solar inverters to supply green power. We provide customers a one-stop service, can also be customized for clients and offer ODM and OEM producing service.

We always listen and satisfy the need of client in the air pump and water pump fields. Please feel free to contact us to get the products meet your market.

Certification

Press Release
NATIONAL HARDWARE SHOW (NHS 2019)

BLOWTAC will participate in the 2019 National Hardware Exhibition from May 7th to May 9th in Las Vegas, USA.Location:1621.

Read More