Surface Jet Aerators
JM Series Surface Jet Aerators
Jet Aerator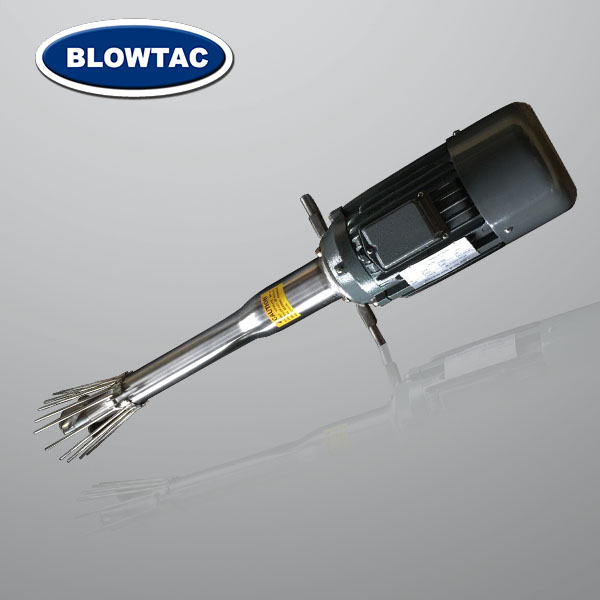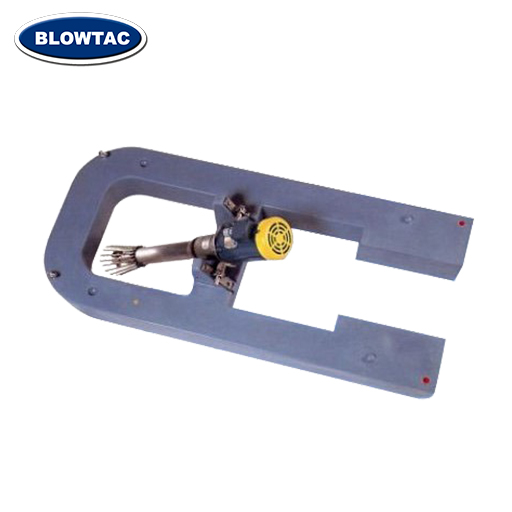 Features
High velocity below surface aeration.
Superior mixing.
Increased dissolved oxygen levels.
Energy and maintenance cost reduced.

Applications
Aerated lagoons.
River and canal restorations.
Oxidation ditch.
Aeration Tank.

Performance
HOW THE AERATOR WORKS
The JET-MIX is mounted at an adjustable angle in the water with the motor portion and air intake above the surface, and the propeller portion below the surface. The motor rotates, turning the hollow shaft which turns the propeller. This pushes water at a high velocity through and near the propeller blades, creating a partial vacuum at the end of the shaft. Atmospheric air above the waterline is drawn in through the air intake port and into the hollow shaft. Turbulance and flow created by the propeller breaks up the air bubbles, mixes the basin and disperses oxygen. The horizontal water movement maximizes bubble hang time maximizing oxygen transfer.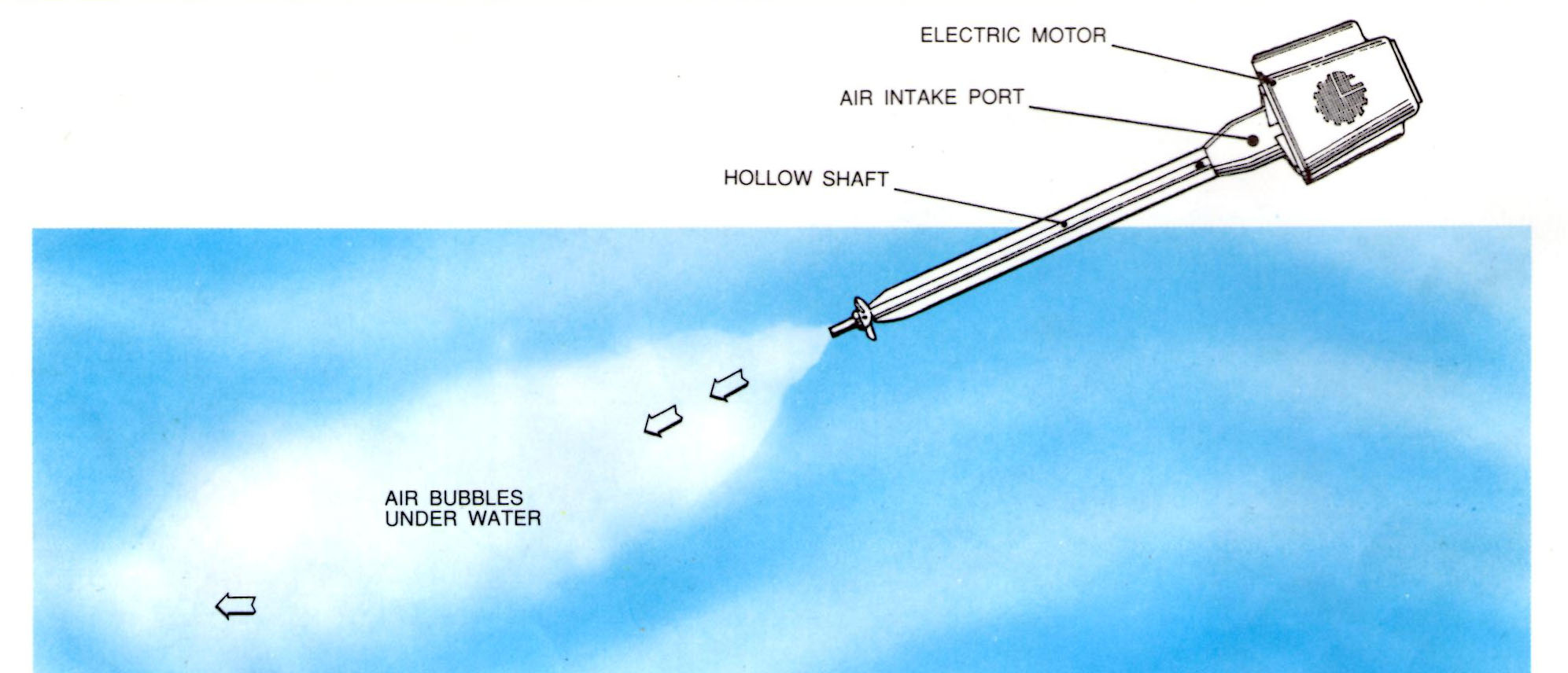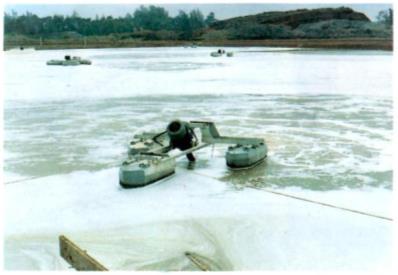 AERATED LAGOONS
As its unique strong mixing action in horizontal
flow,the Aerator is considered to be the ideal
tools formost aerated lagoon with various depth.
ΟΧΙDΑΤΙΟΝ DΙΤCΗ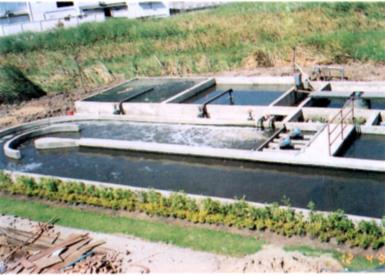 The Oxidation ditches are mostly seen in activated
sludge process.The Aerator is specially effective
in oxidation ditch because of its high horizontal
mixing pattern ofbest design.
RIVER AND CANAL RESTORATIONS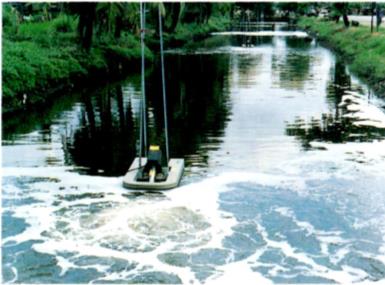 The river and canal polluted by the residents will be
restored by using the Aerator.The boosting of
D.O.levels for aquatic life can improve water quality
in lake,canal or reservoir and upgrade the surrounding
ecosystem.
ΑΕΡΑΤΙΟΝ ΤΑΝΚ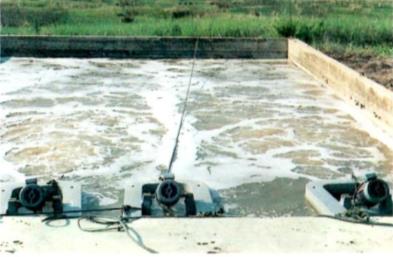 The Aerator can be utilized in conventional tank
for activated sludge or digester. The units with
proper placement in tank can provide the
complete mix and eliminate dead spots.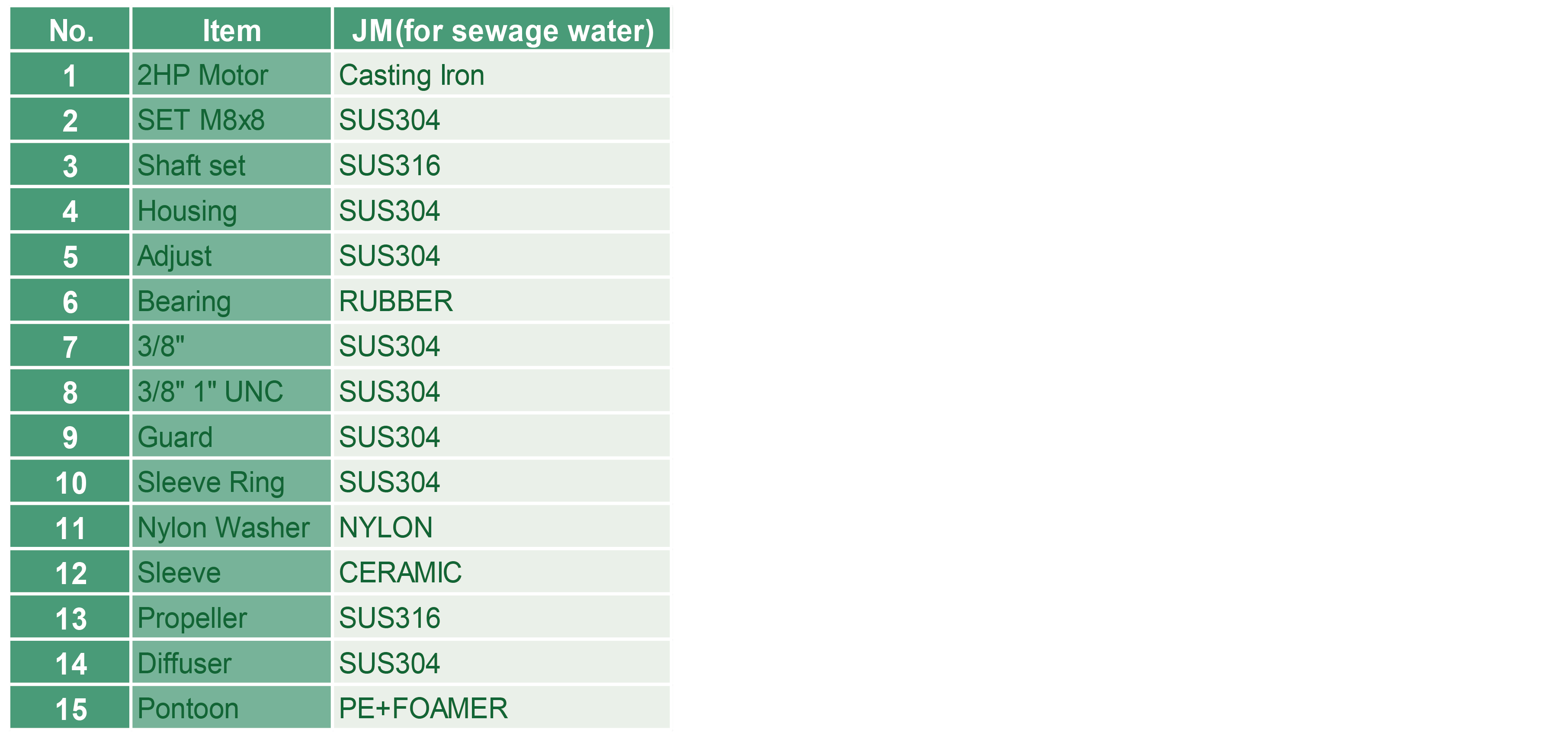 Dimension
Model
Output
Oxygen Transfer Rate
Air Volume
Mixing Volume
Working  Depth   
Unit  Weight
HP
kW
kg-O2/hr
M³/min
M³
M
Kg
JM-005
1/2
0.40
0.75
0.21
40-100
0.5-1.5
44.0
JM-010
1
0.75
1.49
0.42
80-200
1.5-2.5
48.0
JM-020
2
1.5
2.98
0.83
160-400
1.5-2.5
52.0
JM-030
3
2.25
4.47
1.26
240-600
1.5-2.5
58.0
JM-050
5
3.7
7.45
2.09
400-1,000
1.5-3.5
65.0
JM-075
7.5
5.5
11.18
3.13
600-1,500
1.5-3.5
76.6
JM-100
10
7.5
14.90
4.17
800-2,000
2-5
104.3
JM-150
15
11
22.35
6.26
1,150-2,500
2-5
135.1
JM-200
20
15
29.80
8.35
1,500-3,800
2-5
156.4
JM-250
25
18.5
37.25
10.44
1,750-4,400
3-6
225.8
JM-300
30
22
44.70
12.53
2,100-5,100
3-6
240.2
JM-400
40
30
59.80
16.70
2,800-6,400
3-6
322.7
JM-500
50
37
74.50
20.88
3,500-8,000
4-7
356.0


Press Release
NATIONAL HARDWARE SHOW (NHS 2019)

BLOWTAC will participate in the 2019 National Hardware Exhibition from May 7th to May 9th in Las Vegas, USA.Location:1621.

Read More